The Company
PrimePac Solutions Ltd. are an Employee-Owned co-packers who were formed in the Summer of 2005 following the closure of the Budelpack Rhymney factory.
We operate out of a 27,000 square foot production facility with an additional 35,000 square foot warehouse facility nearby.
Plant, equipment and management experience at PrimePac gives the capability of packing and manufacturing many packaging formats and sizes for many different sectors.
With over 100 years' experience of third party packaging in the management team alone, our plant and equipment is capable of packing anything from 5mg powder sachets to 1 litre glass bottles.
We are ISO9001:2015 and 14001:2015 accredited, as well as being a certified member of Soil Association, Sedex and BCMPA.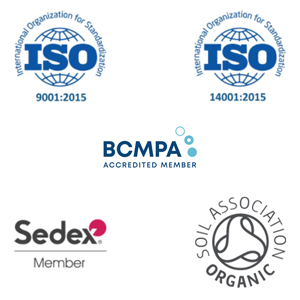 Services offered
With both flexible machines and workforce we can make your products a reality.
The type of services offered will meet your needs. Whether you are looking for full service or you wish us to convert your materials and components into finished goods, we can offer either or something in between. Select the enquiry option today to start the process.
With a capability that includes the ability to manufacture over 50 million sachets per year and fill over 9 million bottles per year along with pouches, hand assembly, tubs, we have successfully supplied customers in the Homecare, Personal Care and Health and Wellbeing sectors.
Contact us today on 01495 364958 to speak to one of the team.
Our facilities
The PrimePac Solutions Limited production facility is situated on the Rassau Industrial Estate near Ebbw Vale.
We have 27,000 ft2 of production floor, workshops and office space and a separate 35,000 ft2 of warehousing space. Services and utilities available far exceed the production facility's requirements. The unit is in an excellent state of repair and secure.
With numerous production rooms and open areas, a plethora of products and formats can be manufactured and packaged all under the same roof.
Office space allows for the management and administration of all technical and commercial issues to ensure customers get a one stop shop.
Warehousing and racking facilities allow for the storage of raw materials, pack materials and finished goods to allow the customer to use PrimePac for all their production needs.
Well served by local roads, PrimePac can easily distribute products and goods to UK and Europe if required.